For whatever reason (laziness? spite? disinterest?) I'll be handling the Finals preview for tonight's game 3 in Cleveland. Quite a bit of history visits everyone's favorite lakeside town tonight, as the Finals make their first to Northeast Ohio ever. It's the first time the city has even hosted a championship game or series since the 1997 World Series (and we know how that went) so it's buzzing up in C-town tonight, I'd expect. Rachel Nichols said, during her report, the following:


"[who cares what she said, I'd plow that until next July] ticket scalpers are reporting prices upwards of $15,000 per ticket [seriously I could barely focus on anything above her neck]"

Anyway, Rachel Nichols is a babe. And there is excitement in Cleveland for this game. After all, the King reminded us that they have been down in an 0-2 hole before in
these
playoffs. But the Detroit series might as well have been played months ago. Things are incredibly different now and the effort needed to win that series pales in comparison to what a comeback will take in these series. That said, here are some questions pertaining to tonight's game and the rest of the series,
WWL
-style!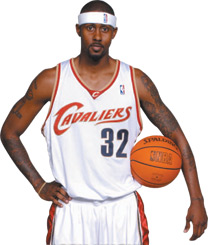 Will You Be Watching When...Larry Hughes triples his output in this series with a 3 pt - 8

reb

- 3 asst line?
Larry
Hughes's
averages this series: 1 pt- 2.5
reb
- 1 asst. Ouch. The Spurs are a very good team but those aren't even D-League numbers. Those are me in any pick-up game numbers. This is beyond "he needs a wake-up call", this is "pray for Larry!" It is unacceptable and makes the star of the team,
LeYouKnowWho
, have to work that much harder. I really don't sympathize for what what Hughes is going to go through after this postseason but it will certainly be fun to watch.
Will You Be Watching When...The

Cavs

go all Utah on the Spurs and win tonight?
Very good possibility that we could have this similarity tonight in Cleveland. The Q gets loud when important things are happening and tonight is no exception. The Spurs probably aren't on cruise control but winning like they've won leaves room for the
Cavs
to come out hot and dangerous. The Jazz did it in the West Finals so don't be surprised if it happens tonight, too.
Will You Be Watching When...

LeBron's

back finally breaks from carrying his team?
This is an unfortunate double-edged sword for the
Cavs
this playoff season. When
LeBron
is the basketball God that he was in Game 5 of the East Finals, no one else wearing wine and gold wanted the ball and you can't blame them. But when
LeBron
has gone under 20 (or just over 20, as in Game 2 of the Finals) and "everyone else" has to try and win the game, the results have been several shades of terrible. In these playoffs,
LeBron
has to play well enough win the games himself, but he also has to get his teammates in the games so he doesn't wear out in the third quarter and he has to be the team's leader on top of anything else. Accomplishing those tasks is doable for a player like Tim Duncan, when he has Tony Parker on the court with him and
Manu
Ginobili
is coming off the pine to help. With this
Cavs
team, it's just too difficult to accomplish all three.
Will You Be Watching When...The

Cavs

win two in Cleveland, lose in six and are the first NBA Finals participant to absolutely need a shakeup in the off-season?
James, Gibson,
Pavlovic
,
Varejao
. These names will be on the back of
Cavs
jerseys next year. As for everyone else? Fair game. This team needs what they thought they were getting in Larry Hughes, and they're getting that from Daniel Gibson.
Pavlovic
is a player on this team and without James, this team doesn't make it out of Cleveland, much less to the NBA Finals. But the greater concern is finding someone to complement
Varejao
down low. Z is 10 years into his career and not getting any younger so
Varejao
must step into that role now and a competent 4/5 guy to go with him would do wonders. But these concerns are still two losses away, so let's not get too antsy.
Game 3 is tonight in Cleveland. Will You Be Watching When...it comes on ABC at 8:30pm? Judging by the ratings for games 1 and 2, survey says..........................................no.