Some random musings from the world of sports after a momentous weekend, including the enormous 4:05 ET Sunday NFL game with gargantuan playoff implications...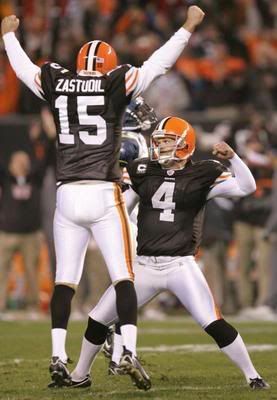 All joking aside, the Browns are 5-3? With a schedule against a bunch of schmucks following next week's showdown in Pittsburgh? Holy crap, they could

cruise

into the playoffs at this point! I don't even know what to say.
Thanks a million, BC, for defecating the Tempur-pedic on Saturday night and sending the BCS into a tailspin of nonsense for the next 5 weeks.
The NBA's Eastern Conference may be wide-open, but I will tell you one team that will not make the NBA Finals from it: the Boston Celtics. Like JTBI always says, baby steps. (And maybe have a bench that looks better than that of the 1993 Dallas Mavericks)
Hey, New York Rangers, pull your heads out of your fucking asses.
Speaking of the NHL... has an entire team ever been suspended for the remainder of a season for dirty play? If not, I nominate the 07-08 Philadelphia Flyers to be the first.
Best season of Curb Your Enthusiasm ever? It's on pace.
If Kansas wins out, they

have to be

in the National Championship game. The 2007 installment of the Big XII may again be in the running for "WORST CONFERENCE EVAR" but if a BCS team goes unbeaten, you

have to

put them in the title game, even if LSU wins out.
Possible NC game trip-ups for contenders from here on out: Kansas vs. Mizzou, Kansas vs. (probably) Oklahoma, LSU vs. Arkansas, LSU vs. (probably) Georgia, Ohio State vs. Illinois, Oregon vs. Oregon State.
No, I'm not accidentally forgetting someone; Michigan is so goddamned unimpressive. Allowing 24 points to a completely inept offense and needing a last-second comeback to beat a team that lost to

Northwestern

? LLLLLloyd Carr may not be around to coach at the Citrus Capital One Bowl on New Year's Day.
Is anyone else rooting for LSU to lose again just so CBS can finally discontinue their five-month SEC handjob? Just asking.
Hey, Michigan State basketball, at least you didn't go Ultimate UVA and lose to a D2 school like Chaminade... but you came damn close. Grand Valley State? Really?
Prediction: Ohio State will enter March Madness with no worse than a #5 seed.
The two best divisions in the NHL right now are the Central and the Northeast. Seriously.
$100 to anyone who could, today, properly pick all six AFC playoff teams. By the end of tonight there will be, no matter what, a stunning 11 AFC teams with a record of .500 or better.
You may need 11 wins to make the playoffs in the AFC this year... and 7 in the NFC. (Though the Giants and Lions will probably each have 9-10)

Will somebody

please

decide they want to win the NFL's western divisions? The Seahawks? The Chargers? I don't care, someone just win these albatrosses, lose in the wild card round, and get on with it.
As a Browns fan, I would still--in hindsight--draft Joe Thomas over Adrian Peterson 10 times out of 10. The Browns' success to this point is due almost entirely to the revamped offensive line.
Oh, right, Colts-Patriots... Tom Brady may be Big Balls McGee today, but I sincerely think the Colts will win at Foxboro in January.
Not to go all Simmons on you, but my buddy Mike had "Mark it down, Pittsburgh at New England, AFC Championship game," as his AIM away message last night. So noted, Michael: November 4th, 2007, was the day you officially lost your goddamned mind.
Three outrageously overrated college football teams: Oklahoma, Michigan, Virginia Tech.
The only two lessons I've learned about the NBA through one week of games: Kobe is awesome

and

awesomely distracting; the Knicks still suck.
more...