The following story is true and after a month of digging, has been confirmed by five separate people and the blog of one of the individuals involved.

Behind maybe Chris DiMarco, the best golfer on tour not to win a Major Championship has to be Sergio Garcia. He has always been a bit of a Streisand to me, but you can't knock his skill. At the end of May, Sergio put those skills on display at Jack's tournament in Dublin, Ohio - The Memorial. But by skills in this case, I don't mean his cut 5 iron from 180 yards out.

As a Columbus native, I have attended the tournament both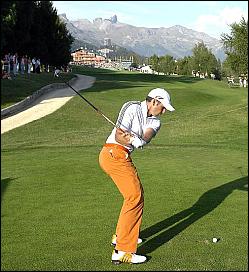 on playing days and practice days and have a pretty good idea of what goes on during either. The men, they watch the golf; the drives off of 1, the approaches at 12 the finish at 18 and so fourth. The women, however, they watch the golfers. This story is about one of those women and the aforementioned Sergio Garcia.

I attended high school in Columbus, Ohio and among my legions of friends (kidding) is a girl named Sarah, currently a Junior at a college in Bloomington, IN. Sarah happened to be there at this year's edition of The Memorial with another mutual friend and while there, some interesting things transpired. She tells the story on her blog so I'll defer to her words:


Yesterday I got catcalled by a golfer that was hanging out by the caddyshack. Because that happens often with the caddies I justlooked and saw it was someone in Yellow pants. Later in the day I saw the player in in the yellow pants was actually Sergio Garcia, a very good golfer.
Now I know what you're thinking: so this broad followed around the Mich Ultra drinking Spaniard all day. Wrong. We fast forward to the next day.
Funny enough today while [a friend] and I were taking some wristbands back to our temp. office for the week we stopped by the putting green to watch Sergio putt
around. One thing led to another and SERGIO SENT OVER HIS CADDY TO ASK ME AND [my friend] TO DINNER. SERGIO GARCIA. He called and we told him if he was serious we would be game tommorrow. Obviously that was ok so I HAVE A DATE WITH SERGIO GARCIA. THE PRO GOLFER SERGIO GARCIA.

So Sergio Garcia went on a date with two college juniors he picked up at the practice putting green of The Memorial.
The story continues (and this is where the five confirmations come into play) and plays out fairly predictably: the heroine of our story went on to go home with El Guapo and proceeded to scissor kick all night long. For their sake, I won't reveal my sources (Sarah has yet to write about it on her blog, but I'm guessing that can't be too far off) but I trust them and they have all told me roughly the same version of the story, including the inevitable conclusion.
The morale of this story, of course is this: the next time Sergio seems like his mind is elsewhere while playing an important round of golf, chances are he's trolling for college ass in the galleries.