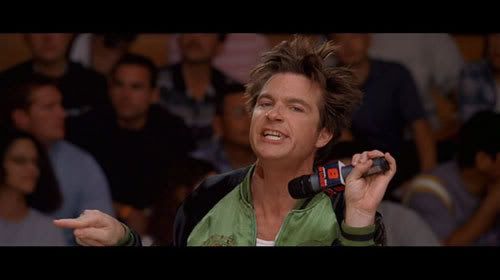 Richard Shea, you are a ridiculous human being.
I know this is probably the dominion of
Awful Announcing
, but I just can't resist. Every year, I like to take in the Nathan's Hot Dog Eating contest on the Fourth of July. It's kinda silly to watch grown men feed their face on a sports-oriented television network... but it's kinda fun. BY FAR the best part of the competition is the booth. In this booth, Paul Page does the play-by-play for ESPN while Richard Shea does the color analysis. In case you're not one of those in-the-know competitive eating buffs, I should probably tell you that Shea is the president of the
International Federation of Competitive Eating
-- that's right, the league president is the analyst. As you can imagine, hilarity ensues. (Any YouTubes from today's competition would be GREAT if anyone can locate them)
| | |
| --- | --- |
| | |
| | "Usually you have to pay double for that kind of action, Cotton." |
Some of Shea's gems from today:
"If Chestnut wins, tomorrow if you Google 'hero'... 'American hero,' you'll find Abraham Lincoln, possibly Neil Armstrong, Taylor Hicks... and

of course

this man, Joey Chestnut!"
"It's like the Super Bowl and the World Series all rolled into one."

"This might be the greatest moment in the history of American sport!"
Taylor Hicks
? Anyway...
You know what? I don't even feel like disputing Shea's charges. They are so awesomely ridiculous that I'm just laughing. I would've thought that maybe his analysis was the inspiration for the announcers so masterfully played by Gary Cole and Jason Bateman in
Dodgeball
, but I was surprised to find out that Dodgeball was released in June 2004, a few weeks
before
ESPN's first live telecast from Nathan's. So I guess not.
Nonetheless, on this Fourth of July, I say: Richard Shea, you are a great American.
Happy Fourth, kids. See you tomorrow!