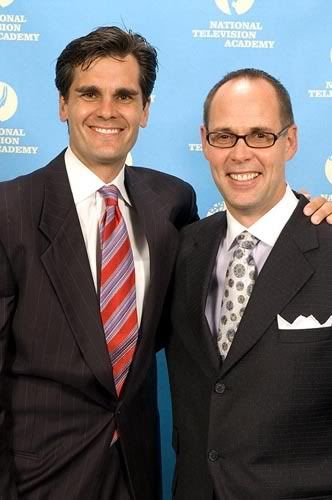 Shitty <---> Awesome
Dear Chip Caray,
You suck.
I never thought so before, but you are a genuinely horrendous broadcaster. I must have been blinded as an Indians fan who adopted the Chicago Cubs as his NL team. I must have been taken in by your homeristic coverage of the Lovable Losers through the 1990s. I must have given you a free pass because who your grandfather was (though curiously I never did the same for the awful broadcaster that is your father).
No more.
After your piss-poor showing in this season's American League Division Series I rescind everything good I ever said about you, Chip. Did somebody at TBS forget to tell you that the ALDS was also telecast outside of the New York television DMA? I can't think of another reason you so relentlessly ballwashed the Yankees all series long; you
had to have
been under the impression you had supplanted Jon Sterling for Pinstripe home broadcasts for a week. Surprising though it may be to hear, Chip, you were in the national booth for TBS for that series.
Unfortunately one would never know it by your complete lack of enthusiasm for anything positive for the Indians did (see: Trot Nixon home run in game 3) coupled with your over-the-top screaming whenever the Yankees did something positive (see: Johnny Damon's home run in game 3 that went to the exact same spot as Nixon's). The Cleveland Plain Dealer's website even
went so far as to write about it
, allowing commenters on their Indians blog to sound off on TBS' slanted coverage.
And it would be one thing if you had just been homering the Yankees. Any asshole can be an overt homer, just ask Hawk Harrelson about that. It's something entirely other to be so slanted in your coverage that you do not even do your homework on a team past their top two pitchers. You acted throughout the series as if an Indians player's name wasn't C.C. Sabathia or Fausto Carmona that he wasn't worth your time. And while YOU may never have heard of Asdrubal Cabrera, Rafael Perez or Jhonny Peralta, they were damned important pieces on this Indians squad in 2007, and REAL national baseball media members have known about them all year (or since August in Cabrera's case). And GOD FORBID Joe Borowski try and save a game against the MIGHTY Yankees! And, hey, in case you need 'em, the Indians tied for the best record in Major League Baseball this year--there's probably a good reason for that.
Since TBS has made the ill-advised decision to put your booth on the NLCS, Chip, let me save you a little time: Phoenix is TV DMA #12; Denver is TV DMA #18 (
smaller than Cleveland!
)--so go ahead and skip your prep on the Rockies.
Now, Chip, I see why the Cubs saw fit to fire your ass in a town where Ken frigging Harrelson has held a steady job for nearly 20 years. You are a second-rate version of your father and a disgrace to your grandfather's legacy. Please go away and never ever ever come back.
Yours Truly,
The Seaward