I swear to all things good and pure: I just don't see it. I don't get it. I don't understand.

How, how, HOW are the Boston Celtics going from literally the worst team in the Eastern Conference to a consensus conference favorite amongst national media analysts? I know, I know, "Seaward, they traded for KG!"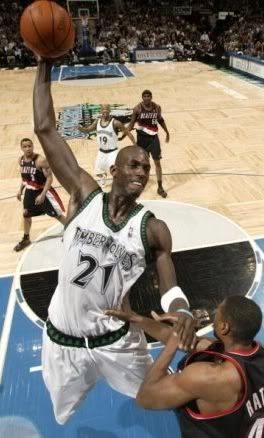 Overrated acquisition? No. Overrated team? Yes.
So?
Everyone has taken great glee in ripping the Eastern Conference from pillar to post after the Cleveland Cavaliers won the East with LeBron +4 and were summarily dumped by a vastly superior Spurs team. "Hey, if all you have to do is be better than Cleveland, anyone can win this conference," has been the mantra of every NBA analyst, GM, player and fan this offseason. Easy enough to say, but does this trade accomplish this end? No.
For starters (no pun intended, just wait), let's look at the Celtics' projected lineup:
PG - Rajon Rondo
SG - Ray Allen
SF - Paul Pierce
PF - Kevin Garnett
C - Brian Scalabrine
Bench - Kendrick Perkins, Glen Davis, Tony Allen, Leon Powe, Gabe Pruitt, Brandon Wallace
Yes, the middle of that starting lineup is frightening. It truly is. The rest of the lineup, though? Are you freaking kidding me? This roster doesn't even have the depth to field a full starting five, much less a reasonable 8-man rotation. And yet... this team is all of the sudden the team to beat in the East in the eyes of all these NBA pundits?
I think someone is pulling a prank on me.
Has everyone forgotten who is steering this ship? How severe is this case of national situational amnesia that everyone failed to notice that Doc Rivers is still the head coach of this team? The same Doc Rivers with a career 273-312 record (8-14 in the
Eastern Conference
playoffs)? Coaching is very important in this league and say what you want about Mike Brown, he installed a defensive system involving his role players on the Cavs that worked perfectly in the East. Do you think Doc Rivers can do that? Can
Doc Rivers
out-coach
anyone
in playoff contention in the East? Yeah, that's what I thought.
Even taking a giant leap and granting that Doc won't screw this up, will a big three with an average age of 31 be able to succeed in a conference that is getting rapidly younger? Can the 31 year olds run with superstars in their early and mid-20s like LeBron James, Dwyane Wade and Dwight Howard? Well, let's ask the New Jersey Nets... nope. (FWIW- I'm not convinced that Boston's big 3 is better than New Jersey's big 3.)
The way I see it, the Celtics are now a playoff team... but are they a conference contender? No. No, no, no, a thousand times NO. As I see it right now they are anywhere between a 6 and 8 seed in the east. Take a look:
1- Cleveland -- Give the defending conference champs their due with a 1 seed
2- Miami -- Fully healthy Wade + breathing Shaq = Southeast title
3- New Jersey -- The original Big 3 adds Jamal Magloire at the 5

4- Chicago -- Talented

young

core keeps getting better

5- Detroit -- Getting older but are still a major player thanks to depth

6- Orlando -- Dwight Howard welcomes Rashard Lewis
7- Boston -- Lots of star power with no depth still gets you in the playoffs

8- Toronto -- Talented young team took a big step in 06-07
Coaching, depth and age... can the Celtics overcome all of these shortcomings and win the weak Eastern Conference?
No.