Over Thanksgiving weekend, a few friends and I undertook a roadtrip to some college football landmarks in the deep south to take in some high-quality pigskin action, both inside and outside the stadiums. Though it's two weeks later, I did want to share my experience there and rate it for you folks out there considering seeing a game at any of these stadiums. I plan to share similar accounts for other sporting events I attend over the course of time. I will rate the experience on a number of different levels: city, exterior atmosphere, stadium, in-game atmosphere and ticket value.


ARKANSAS-LSU
"The Battle for the Boot"
November 23rd, 2007
Tiger Stadium
Baton Rouge, LA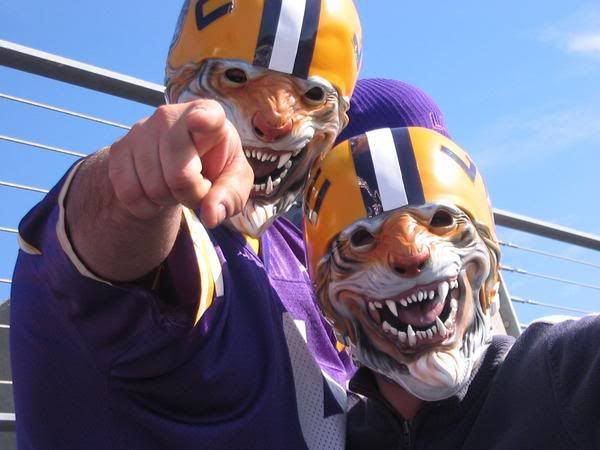 We drove through the night from Lexington, KY, leaving at 11:30 pm and arriving in Baton Rouge at about noon ET. Getting to our lot--about 3 blocks from Tiger Stadium--was slightly nightmarish. I-10 was a parking lot, even 3 hours before game time, and once we hit our exit the traffic flow was turtle-like at best. It probably took us about 45 minutes from when we entered Baton Rouge to actually find our lot. Maybe more.
After a rough start with the traffic, things looked up immediately once we parked. The fans outside were outstanding and even though we were fans of the much-hated (in SEC country) Big Ten, everyone was very cordial and stopped and talked with us. Even in our remote parking lot we were having a good time. Our rubber LSU Tiger mask (pictured above, right) didn't hurt either. In fact, that mask got us into a couple tailgates, where we were treated to free beers, keg-stands and, in one case, some chopped up hog (get it?). The tailgating scene at LSU was phenomenal; pretty easily the best tailgating I've ever been a part of, and that's not even counting the
SEC talent
meandering around.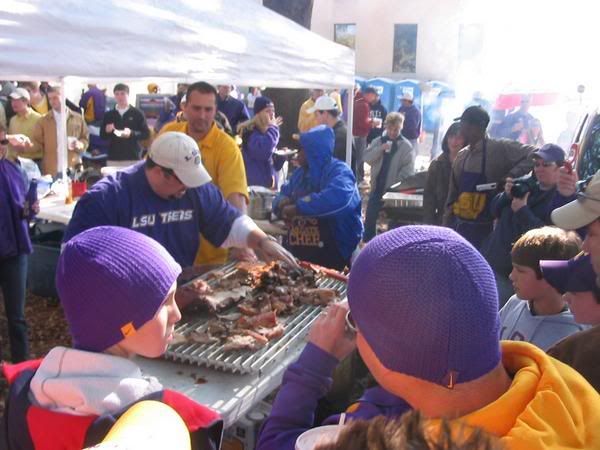 Chopped hog at the LSU tailgate. It was freaking tasty.
We hit another snag getting into the stadium as the escalators broke about 15 minutes prior to kickoff. Unfortunately this meant we missed the much-hyped pre-game band performance. We eventually made our way to our seats, which were literally the second-last row of the stadium on the 15 yard line. Not the best value at $100 a head, but what are you gonna do on the last weekend of the regular season?
During the game, I was struck by how
not
intense the crowd was. Despite a trip to the BCS Championship being (theoretically) on the line against one of their (theoretical) rivals, the Tiger faithful inside Death Valley seemed very nonchalant about taking on the Fighting Darren McFaddens. Not only was the crowd not as rabid as we'd been led to believe they'd be, they didn't have the pride we expected. Just to be pains in the ass, our group decided to chant O-H-I-O during every kick off, expecting to get the business every time we announced that, yes, we ARE Ohio State fans. Sadly, only one LSU fan, a woman with a good sense of humor behind us, even needled us or shot us dirty looks. One abusively drunk Arkansas fan a few rows ahead of us gave us a nasty glare, though.
As for the game, the only time the crowd got massively fired up was toward the end of the 4th quarter when it became startlingly apparent that the Razorbacks were not going to lay down for the #1 Tigers. Once we hit overtime the place started to really rock, only to be disappointed by Bo Pellini's mystifying defensive sets and a triple-OT Matt Flynn interception.
On the way out, Baton Rouge's horrific traffic patterns struck again. We sat in our car, about 10 feet from our original parking spot, waiting to leave the parking lot for a solid 40 minutes before we realized that our original plan to head to New Orleans that night would have to be scrapped because it might take us 2 hours to get out of town. Instead we re-parked in an empty spot and walked to a local pizza joint and chatted up a few LSU students over a few slices. Despite the loss they were really friendly and answered pretty much anything we could ask them about campus and the football team, including telling us that night's crowd was pretty brutal by LSU standards because of the Thanksgiving holiday and the fact that LSU still doesn't really consider UofA to be a big rival. Interesting points.
Two hours after our initial departure attempt, we finally worked our way through the traffic labyrinth that is Baton Rouge, LA, and hit the road for our next destination: Auburn, AL.

A view from the "cheap" seats.
RATINGS:

CITY:
After my first visit, I cannot say I am a big fan of Baton Rouge. The traffic was a complete nightmare on the way in and an unmitigated disaster on the way out. What a marvelous idea it was to build a huge football stadium well away from the highway with only two-lane roads to access it, from only two exits? Get your shit together, Baton Rouge traffic department. Also, once you get off campus this place is kind of a dump. Not special at all.
2 out of 10.

EXTERIOR ATMOSPHERE:
The tailgating at LSU was outstanding. The fans were great. I cannot say enough about what a great time we had once we got out of the car. Even after the huge upset was complete, LSU's fans were still very cool and more than happy to rap with us about the ol' pigskin.
10 out of 10.
STADIUM:
The escalators breaking was not exactly a great start for our Tiger Stadium experience. This stadium seems to be a bit sprawling. I've sat at the top of the stadium in other venues and it still seemed more intimate than Death Valley. It seemed that the crowd had to overcompensate to really make it seem fierce once OT rolled around. It made the whole crowd reaction seem kind of disjointed. Still had good sightlines and the feel of big-time college football.
7 our of 10.

IN-GAME ATMOSPHERE:
Again, the crowd seemed a little
too
calm, cool and collected through the first three quarters. You'd think that with a trip to the big dance on the line that they'd have been a bit more fired up but that was certainly not the case until about 8 minutes left in regulation. Then the place went ballistic and got the floor shaking. I'll give them a bit of a free pass for the Thanksgiving holiday, but I was still surprised at the lack of intensity inside Death Valley. Also the fans around us were knowledgeable and were happy to engage us with SEC-Big Ten banter and answer questions we had about either team, such as, to an Arkansas fan, "Where the hell has this defense been all year??" It's possible that I'm being a bit hard on the Tiger faithful because of all the hype I'd been fed before we embarked on this trip, but still...
7 of 10.

TICKET VALUE:
$100 for the second-last row is not exactly getting the most bang for your buck, but we were treated to an excellent game and a good time all-around.
8 out of 10.
OVERALL:
Baton Rouge's suckitude really kills this game's ranking. It almost seems unfair, but maybe the city of Baton Rouge should think about a logical traffic flow, or maybe a few traffic cops outside of huge parking lots after huge triple-overtime games. Without the City ranking, this game would get a pretty solid 80% at 32/40. Instead, it gets...
34 out of 50.
PLEASE NOTE: Do not take this rating as a sign that I didn't have a total blast in Baton Rouge... I did. Truly. But on an objective basis, Baton Rouge left a lot to be desired.
This weekend, the Iron Bowl in Auburn!